BandwagonHost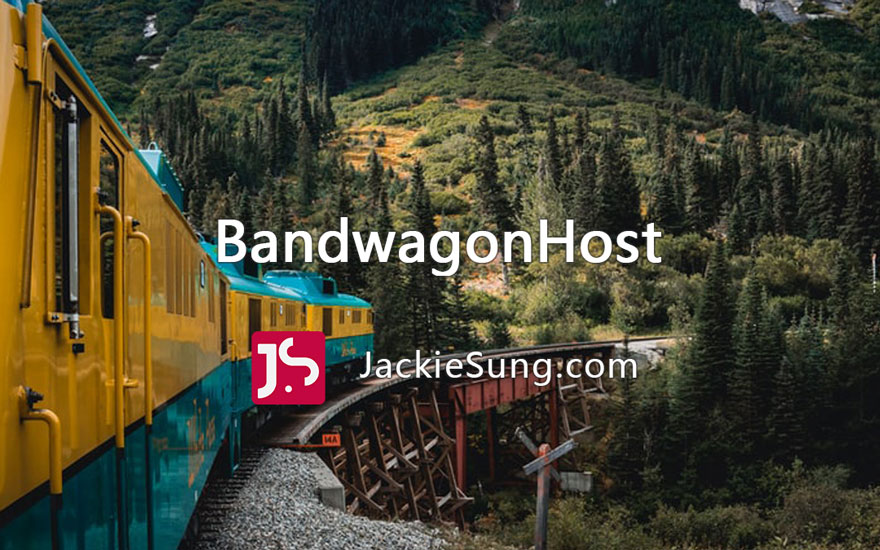 BandwagonHost VPS service is running on KiwiVM, a secure control panel developed in-house. It allows to perform all basic management tasks: start/stop, OS reload, Emergency console, rDNS (PTR) record management, datacenter migration, snapshots, usage statistics, API etc. Virtualization platform is KVM.
All VPS hosting plans include
Enterprise servers
We use only top-quality, enterprise grade equipment. This reduces downtime caused by hardware malfunctions.
Premium network
All plans include 1 Gigabit uplink connection.
24/7 Service monitoring
Our staff monitors all services and network non-stop, acting proactively to prevent hardware or network issues.
We own our equipment
We do not rely on third-party when it comes to hardware equipment. We also own our IP space.
20G KVM VPS
SSD: 20 GB RAID-10 RAM: 1024 MB CPU: 2x Intel Xeon Transfer: 1 TB/mo Link speed: 1 Gigabit Multiple locations
$49.99/year
160G KVM VPS
SSD: 160 GB RAID-10 RAM: 8 GB CPU: 5x Intel Xeon Transfer: 4 TB/mo Link speed: 1 Gigabit Multiple locations
$39.99/month
40G KVM VPS
SSD: 40 GB RAID-10 RAM: 2 GB CPU: 3x Intel Xeon Transfer: 2 TB/mo Link speed: 1 Gigabit Multiple locations
$52.99/half year
320G KVM VPS
SSD: 320 GB RAID-10 RAM: 16 GB CPU: 6x Intel Xeon Transfer: 5 TB/mo Link speed: 1 Gigabit Multiple locations
$79.99/month
80G KVM VPS
SSD: 80 GB RAID-10 RAM: 4 GB CPU: 4x Intel Xeon Transfer: 3 TB/mo Link speed: 1 Gigabit Multiple locations
$19.99/month
480G KVM VPS
SSD: 480 GB RAID-10 RAM: 24 GB CPU: 7x Intel Xeon Transfer: 6 TB/mo Link speed: 1 Gigabit Multiple locations
$119.99/month
SPECIAL KVM PROMO V5 - LOS ANGELES - CN2 GIA LIMITED EDITION **Limited stock available**
SPECIAL 10G KVM PROMO V5 - LOS ANGELES - CN2 GIA LIMITED EDITION
SSD: 10 GB RAID-10 RAM: 512 MB CPU: 1x Intel Xeon Transfer: 500 GB/mo Link speed: 1 Gigabit Location: Los Angeles, China Telecom IDC China Telecom CN2 GIA Enterprise level transport for China Unicom provided by China Telecom Direct peering with Google
$49.99 Annually
SPECIAL KVM PROMO V3 - LOS ANGELES - CN2
SPECIAL 20G KVM PROMO V3 - LOS ANGELES - CN2
SSD: 20 GB RAID-10 RAM: 1024 MB CPU: 1x Intel Xeon Transfer: 1000 GB/mo Link speed: 1 Gigabit Location: Los Angeles Direct route via CN2 and China Unicom
$49.99/year
SPECIAL 160G KVM PROMO V3 - LOS ANGELES - CN2
SSD: 160 GB RAID-10 RAM: 8 GB CPU: 2x Intel Xeon Transfer: 5000 GB/mo Link speed: 1 Gigabit Location: Los Angeles Direct route via CN2 and China Unicom
$39.99/month
SPECIAL 40G KVM PROMO V3 - LOS ANGELES - CN2
SSD: 40 GB RAID-10 RAM: 2048 MB CPU: 1x Intel Xeon Transfer: 2000 GB/mo Link speed: 1 Gigabit Location: Los Angeles Direct route via CN2 and China Unicom
$99.99/year
SPECIAL 320G KVM PROMO V3 - LOS ANGELES - CN2
SSD: 320 GB RAID-10 RAM: 16 GB CPU: 3x Intel Xeon Transfer: 8000 GB/mo Link speed: 1 Gigabit Location: Los Angeles Direct route via CN2 and China Unicom
$79.99/month
SPECIAL 80G KVM PROMO V3 - LOS ANGELES - CN2
SSD: 80 GB RAID-10 RAM: 4096 MB CPU: 2x Intel Xeon Transfer: 3000 GB/mo Link speed: 1 Gigabit Location: Los Angeles Direct route via CN2 and China Unicom
$199.99/year
SPECIAL KVM PROMO V5 - HONG KONG
SPECIAL 40G KVM PROMO V5 - HONG KONG
SSD: 40 GB RAID-10 RAM: 2048 MB CPU: 2x Intel Xeon Transfer: 500 GB/mo Link speed: 1 Gigabit Location: Hong Kong MCX10 Direct route via China Telecom and China Unicom
$89.99/month
SPECIAL 320G KVM PROMO V5 - HONG KONG
SSD: 320 GB RAID-10 RAM: 16384 MB CPU: 8x Intel Xeon Transfer: 4000 GB/mo Link speed: 1 Gigabit Location: Hong Kong MCX10 Direct route via China Telecom and China Unicom
$589.99/month
SPECIAL 80G KVM PROMO V5 - HONG KONG
SSD: 80 GB RAID-10 RAM: 4096 MB CPU: 4x Intel Xeon Transfer: 1000 GB/mo Link speed: 1 Gigabit Location: Hong Kong MCX10 Direct route via China Telecom and China Unicom
$155.99/month
SPECIAL 160G KVM PROMO V5 - HONG KONG
SSD: 160 GB RAID-10 RAM: 8192 MB CPU: 6x Intel Xeon Transfer: 2000 GB/mo Link speed: 1 Gigabit Location: Hong Kong MCX10 Direct route via China Telecom and China Unicom
$299.99/month
SPECIAL KVM PROMO V5 - LOS ANGELES - CN2 GIA ECOMMERCE
SPECIAL 20G KVM PROMO V5 - LOS ANGELES - CN2 GIA ECOMMERCE
SSD: 20 GB RAID-10 RAM: 1 GB CPU: 2x Intel Xeon Transfer: 1000 GB/mo Link speed: 2.5 Gigabit Location: Los Angeles, China Telecom IDC China Telecom CN2 GIA 2.5 Gbps Enterprise grade transport for China Unicom provided by China Telecom 2.5 Gbps E-commerce optimized premium network for all other destinations Direct peering with Google
$65.99 Semi-Annually
SPECIAL 80G KVM PROMO V5 - LOS ANGELES - CN2 GIA ECOMMERCE
SSD: 80 GB RAID-10 RAM: 4 GB CPU: 4x Intel Xeon Transfer: 3000 GB/mo Link speed: 2.5 Gigabit Location: Los Angeles, China Telecom IDC China Telecom CN2 GIA 2.5 Gbps Enterprise grade transport for China Unicom provided by China Telecom 2.5 Gbps E-commerce optimized premium network for all other destinations Direct peering with Google
$49.99/month
SPECIAL 320G KVM PROMO V5 - LOS ANGELES - CN2 GIA ECOMMERCE
SSD: 320 GB RAID-10 RAM: 16 GB CPU: 8x Intel Xeon Transfer: 8000 GB/mo Link speed: 5 Gigabit Location: Los Angeles, China Telecom IDC China Telecom CN2 GIA 5 Gbps Enterprise grade transport for China Unicom provided by China Telecom 5 Gbps E-commerce optimized premium network for all other destinations Direct peering with Google
$139.99/month
SPECIAL 40G KVM PROMO V5 - LOS ANGELES - CN2 GIA ECOMMERCE
SSD: 40 GB RAID-10 RAM: 2 GB CPU: 3x Intel Xeon Transfer: 2000 GB/mo Link speed: 2.5 Gigabit Location: Los Angeles, China Telecom IDC China Telecom CN2 GIA 2.5 Gbps Enterprise grade transport for China Unicom provided by China Telecom 2.5 Gbps E-commerce optimized premium network for all other destinations Direct peering with Google
$69.99 Quarterly
SPECIAL 160G KVM PROMO V5 - LOS ANGELES - CN2 GIA ECOMMERCE
SSD: 160 GB RAID-10 RAM: 8 GB CPU: 6x Intel Xeon Transfer: 5000 GB/mo Link speed: 5 Gigabit Location: Los Angeles, China Telecom IDC China Telecom CN2 GIA 5 Gbps Enterprise grade transport for China Unicom provided by China Telecom 5 Gbps E-commerce optimized premium network for all other destinations Direct peering with Google
$75.99/month
SPECIAL 640G KVM PROMO V5 - LOS ANGELES - CN2 GIA ECOMMERCE
SSD: 640 GB RAID-10
RAM: 32 GB
CPU: 10x Intel Xeon
Transfer: 10000 GB/mo
Link speed: 10 Gigabit
Location: Los Angeles, China Telecom IDC
China Telecom CN2 GIA
10 Gbps Enterprise grade transport for China Unicom provided by China Telecom
10 Gbps E-commerce optimized premium network for all other destinations
Direct peering with Google
$289.99/month